Conferences and Interparliamentary Working Groups
To reach as many policymakers as possible and to influence the decision-making, the Kurdish Institute regularly organizes conferences.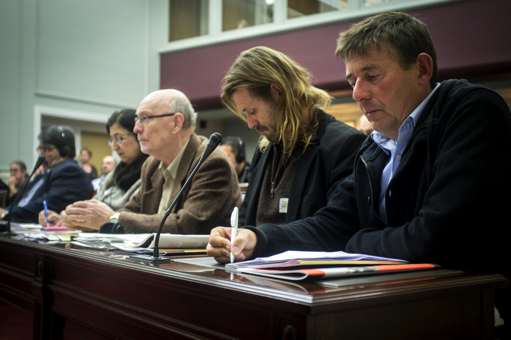 We are active in Flanders with the Interparliamentary Working Group on the Kurds (IPWK) which meets 4 times a year.
During the IPWK, specialized guest speakers provide first-hand information about the current situation in the Kurdish regions to politicians, parliamentary assistants, academics, interested citizens and journalists.
These working groups are open to all political parties, NGOs, socio-cultural organizations and activists.
At European level, together with our partners from the EU Turkey Civic Commission, we highlight burning current issues at conferences in the European Parliament and we call out Europe's responsibility. In addition, we organize numerous conferences about people and peoples rights.
1. Öcalan's historic Newroz 2013 Statement
2. Kurdish ceasefire boosts peace process in Turkey
3. Turkey should seize offer of peace from Kurdish guerilla leader
4. 'Time for the guns to go silent': jailed Kurdish rebel leader hails 'historic truce' and urges ceasefire with Turkey
5. Editorial: The PKK's declaration of a truce in Turkey is in everyone's interest
6. Erdogan should pursue lasting truce with the PKK
7. Kurds celebrate ceasefire with Turkey in Diyarbakir
8. Kurdish leader Ocalan declares ceasefire
9. Peace dividends
10. Jailed Leader of the Kurds Offers a Truce With Turkey
11. Jailed Kurdish rebel leader calls for historic truce, Turkish prime minister voices caution
12. Kurdish rebels will heed their leader's call for peace with Turkey, news reports say
13. Turkey's Kurdish Spring: Historic Day Full of Hope — Doubts Too
14. Peace comes to Turkey
The deputy head of the Confederation of Kurdish Associations in Europe (KON-KURD) and a member of KNK, Mr. Yilmaz Orkan, were arrested yesterday morning at the Zaventem airport in Brussels by Belgian police on behalf of their Spanish colleagues.
Please find attached the European parliament's DRAFT motion for a resolution "on the 2012 Progress Report on Turkey" (Rapporteur: Mrs Ria Oomen-Ruijten (EPP, The Netherlands), as voted in the committee of Foreign Affairs on 21 March 2013.
The resolution will be now discussed in the plenary of the European parliament in STRASBOURG (France) next Wednedsay 17th of April 2013 in the afternoon (with an opening speech of EU Commissioner for Enlargment, Stefan Fule), and will be voted / adopted the day after, Thursday 18th of April at 12h00.
EP Members and political groups will have, in principle, the opportunity to table amendments to the resolution, in this case the deadline is foreseen for next Wednesday 10th of April at 12h00 (in Brussels, Belgium).
As always, the resolution is a "comprehensive text" dealing with several chapters of the EU-Turkey relation / negotiations for EU enlargement:
– as far as the new Erdogan-Ocalan negotiations are concerned, please have a look in particular to paragraph 36 of the draft resolution.
– the "Uludere issue" is raised in paragraph 39.
– the usual condemnation of terrorism is raised in par.53.
– please also check the several paragraphs on justice and constitutional reforms.
Best regards,
Stefano Squarcina, EP Brussels (B) GUE/NGL Group
Interested?
Send us a message