April 24 is the national day of remembrance of the Armenian Genocide, both in Armenia and in neighboring Artsakh (Nagorno-Karabakh). To commemorate the victims, thousands of people in Yerevan walk to the Tsitsernakaberd National Monument to lay flowers at the eternal flame.
Today the Kurdish Institute expresses its solidarity and we will be present at the commemoration in Ixelles (Brussels) where the memorial stone of the genocide is located (see photo).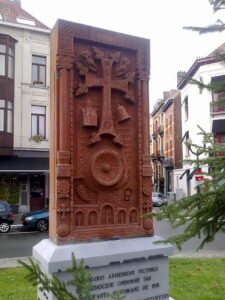 The first phase of the genocide began on April 24, 1915, when the Ottoman government arrested and murdered hundreds of Armenian intellectuals and community leaders in Constantinople, or modern-day Istanbul. It spread to brutal massacres of the male Armenian population and the deportation of Armenian women, children and the elderly to the Syrian desert. More than a million Armenians were killed – about 70 percent of the total Armenian population in the Ottoman Empire.
It is terrible to see that even today human rights violations and war crimes are being committed against the Armenian population. With support from Turkey, Azerbaijan continues with unscrupulous extrajudicial killings and the detention of Armenians in Artsakh (Nagorno-Karabakh).
More information and details can be found in the press release "Evil Continues to Live" published by the "Armenian Council of America". Herewith the link to this press release.